Many breastfeeding mothers struggle with low milk supply, but there are also women for whom it's the complete opposite. Their bodies produce near excessive volumes of milk that are more than sufficient to feed their baby.
While having plenty of milk might seem like a good problem to have, an oversupply of breast milk can actually be very uncomfortable for mother and baby. Overly full breasts can become very painful, and the strong milk flow can be quite overwhelming for a baby and even hinder a healthy development.
But how much breast milk is considered an oversupply? How to tell if there really is a breast milk oversupply? What causes a woman's body to produce more milk than needed? And what tips can help reduce milk production?
Is breast milk oversupply really an issue?
It's not uncommon for mothers with an abundant milk production to hear other breastfeeding mums say things like, "I wish I had as much milk as you". For women who struggle to make enough milk to nurse their baby, it can be hard to comprehend how too much milk can possibly be a problem. But for those with an oversupply of breast milk, the excessive amount of milk can be a real burden.
Breast milk oversupply or a forceful let-down can cause a range of problems that make breastfeeding difficult. In medical terms, this phenomenon is known as hyperlactation or hypergalactia. Hyperlactation causes physical discomfort for the mother and poses a real challenge for the baby who is often unable to cope with the strong flow of milk.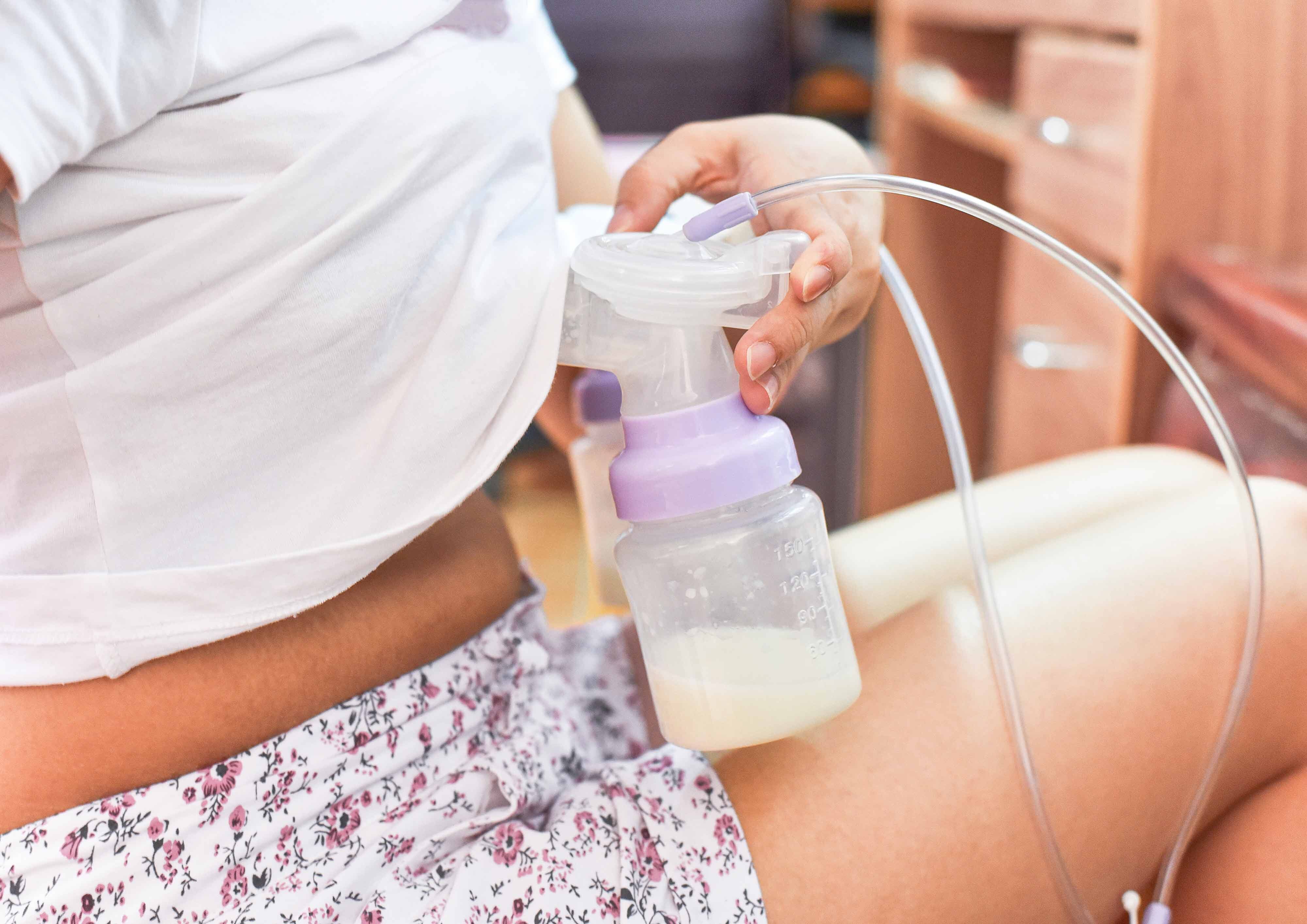 Breast milk oversupply symptoms
Not having enough breast milk is an issue, but so is producing too much milk. Both a low supply and an oversupply of breast milk can make breastfeeding difficult. But how much breast milk is considered an oversupply? And how to know if your body is really producing too much milk?
Here is an overview of common symptoms shown by mother and baby:
Firm, aching breasts: An oversupply of breast milk causes your breasts to feel uncomfortably full, which can become painful after a while.
Overactive let-down reflex: Too much breast milk often goes hand in hand with an overactive let-down, which can also be painful.
Sore nipples: Some babies react to a forceful let-down by clasping their mother's breast tightly with their jaws. Depending on where your nipple is positioned in your baby's mouth, it might get rubbed between the jaws, which can lead to soreness and even cause small wounds. Sore nipples need to be treated to prevent infections. One way of soothing painful nipples is the use of so-called silver nursing cups.
Leaking between feedings: If you can't go half an hour between feeds without wearing nursing pads because your breasts are constantly leaking milk, then this is very likely due to an oversupply of breast milk.
Pain when breastfeeding: Breastfeeding pain can have many different causes. If the breasts are overly full and tense because they contain too much milk, this will make breastfeeding painful.
Choking and coughing: If you notice that your baby regularly chokes at the breast or coughs while feeding, this could mean that your let-down is too strong for your little one.
Frequent spitting up: If your baby has to spit up regularly and a lot after breastfeeding, it could be that he or she is unable to cope with the amount of milk coming out of your breasts.
Pushing off the breast: If your baby lets go of your breast immediately after the let-down reflex has kicked in, this can be an indicator that let-down is too forceful and that feeding at the breast is uncomfortable for your baby.
Recurring blocked milk ducts or mastitis: Women with breast milk oversupply are more likely to suffer from blocked milk ducts or mastitis than women with normal milk supply.
Breast milk oversupply directly after birth?
During the onset of lactation and throughout the first weeks of breastfeeding, many women feel like they have too much breast milk because their breasts are feeling uncomfortably full. However, there's nothing unusual about breast engorgement in the early days of breastfeeding. After all, the body needs some time to regulate milk supply and adjust the milk production to the baby's actual needs.
It's therefore hard to tell if there really is a problem with your milk supply in the first few weeks following birth. What's more, the onset of lactation is often accompanied by several breastfeeding problems that might cause you to think that your body is making too much milk. So give it a little time before you start worrying about a potential breast milk oversupply.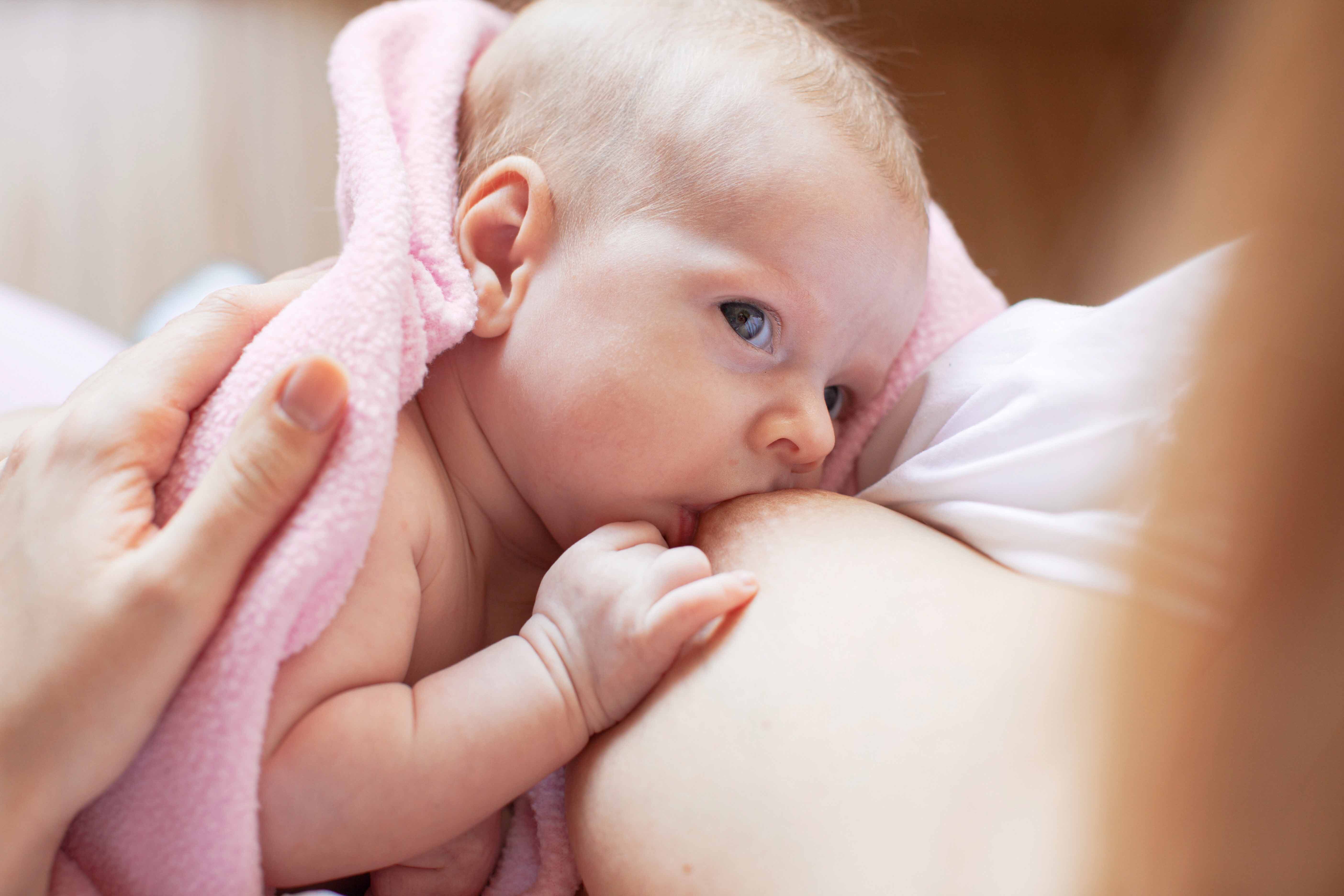 What causes an oversupply of breast milk?
When they notice that their breasts are producing too much milk, many women wonder where the oversupply comes from. There are many different causes for breast milk oversupply, including:
Bad breastfeeding management: Many women switch breasts when feeding their baby to keep up or increase their milk supply. However, if the body has already adapted milk supply to the baby's needs, continuing to switch-feed your baby will eventually lead to an oversupply.
Excessive use of a breast pump: Many mothers try to boost their milk production by additionally pumping their breasts after each feed. This leads to overstimulation of the breast and can cause an oversupply of breast milk in the long run. Drinking excessive amounts of breastfeeding tea can also be a reason that there is more milk than needed.
Natural predisposition: Some women simply produce more milk than is actually necessary in the first few weeks after giving birth. In such cases, it usually takes a while for the body to adjust the milk supply to the baby's actual needs. Also, it's normal for a woman's body to supply more milk with each new baby.
Bad breastfeeding latch: A bad breastfeeding latch usually means that babies need to feed more often. The frequent stimulation of the breast can lead to an oversupply of breast milk in the short run—in the long run, however, improper latching leads to an undersupply, since the breast isn't emptied properly.
Hormonal imbalance: In rare cases, breast milk oversupply can also be caused by hormonal imbalance. Certain medical conditions, such as thyroid disease, can cause the body to continue to secrete excessive amounts of prolactin after birth. Since prolactin is the hormone which is responsible for milk production in the human body, an excessive prolactin release usually triggers oversupply. The same can occur when women take certain types of medication while breastfeeding.
How to reduce milk supply?
It's not always possible to determine what causes the breast milk oversupply, and although some breastfeeding mums are interested in getting to the root of the problem, there is a far more pressing issue. Dealing with an oversupply of breast milk isn't easy, which is why most women are desperate to know how they can reduce their milk supply. Here are a few tips that can help you regulate your oversupply when breastfeeding:
Change breastfeeding position: If your baby struggles with your forceful let-down, changing to a different breastfeeding position might help. Laid-back nursing is a good option for women with an oversupply of breast milk because the milk needs to "travel uphill" to get to the nipple, which means that the let-down is less strong. A weaker milk flow makes it easier for your baby to feed without choking or spitting up.
Try block feeding: Block feeding is a breastfeeding method where the baby is fed exclusively from one breast for a set number of hours. According to experts, block feeding helps reduce milk production since the breasts aren't stimulated as often as under normal circumstances.
Drink peppermint or sage tea: Although there is no scientific evidence, many midwives recommend drinking peppermint or sage tea to decrease milk production. Both peppermint and sage are said to adversely affect milk supply.
Apply cold therapy: Applying a cold breast gel pad or a cold compress can not only soothe breast pain, but it can also help decrease your milk supply. Cold causes the vessels to constrict and slows down metabolic processes, which also affects milk production.
Pump less: Expressing milk with a breast pump to relieve overly full breasts may be tempting, but it's not a good strategy when trying to regulate an oversupply of breast milk. Pumping breast milk suggests to the body that more milk is needed, which hence has the opposite effect of what you're trying to achieve. If you're really desperate to get some relief, you can express a little milk by hand.
But how long does it take to regulate an oversupply of breast milk when following these tips? This is different from woman to woman. Depending on how fast your body responds to the measures to reduce your milk supply, you should start noticing an improvement after four to seven days.
If your body continues producing too much breast milk despite your efforts to dry up your milk production, you should talk to a midwife or a lactation consultant or seek help from a doctor. If nothing else helps, your GP can prescribe medication to reduce milk supply.
Conclusion: Breast milk oversupply doesn't have to be a problem
Breast milk oversupply might not be as common a problem as low breast milk supply, but that doesn't make it less painful. Both too much and too little breast milk can put a damper on a woman's breastfeeding experience and disturb the relationship between mother and child.
The good news is, however, that too much breast milk doesn't have to be a problem for long. With good breastfeeding management and a little professional support from a midwife or a lactation consultant, it's usually not too difficult to regulate an oversupply of breast milk. Just remember to make sure that you really have too much breast milk before taking action to reduce your milk production.